Get your tickets
Choose your concert or subscribe for the season.
Welcome!
The Needham Concert Society presents world-class ensembles and soloists from the Boston area and around the globe. Enjoy thrilling live performances in an intimate setting. Plus, you'll love the convenience of our Needham location and free parking.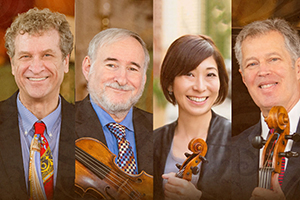 Orion Chamber
Ensemble
Sunday, November 19, 2023 at 3 pm
Piano Quartet Grandeur
Two piano quartet masterpieces form the cornerstones of this program featuring the addition of guest violist Noriko Futagami. The sunny and optimistic Mozart E-flat major quartet contrasts with the dark, passionate, and brooding quartet in C minor by Johannes Brahms. Also included is the sweet and lyrical one-movement Schubert string trio in B-flat major.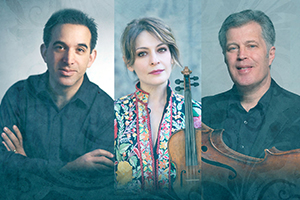 Piano Trio Masterpieces
Sunday, February 11, 2024 at 3 pm
B-flat Magic
What's in a key? The two featured works–Brahms' Op. 18 string sextet in B-flat major, grand in scope, arranged beautifully for piano trio by Theodor Kirchner, and Franz Schubert's magnificent Op. 99 Piano Trio in B-flat major–provide different answers.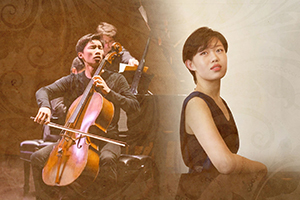 Leland Ko + Adria Ye
Sunday, March 3, 2024 at 3 pm
Rising Stars
Prize-winning cellist Leland Ko is joined by Juilliard-trained pianist Adria Ye for a rich and varied program ranging from Bach to the romantic yearnings of Schumann, the Russian soulfulness of Kabalevsky, the inventiveness and edginess of Penderecki, and the dazzling virtuosity of Schubert.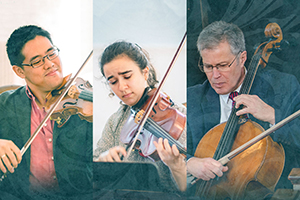 String Trios Galore
Sunday, April 7, 2024 at 3 pm
The Power of Three
Three accomplished musicians perform three string trío masterpieces, including the powerful and energetic Beethoven C-minor trío, the playful and lighthearted Françaix C-major trio, and the sublimely elegant Mozart E-flat divertimento–a program that showcases the brilliance and versatility of the string trio.
Join our mailing list!
If you would like concert announcements emailed to you, or to receive a season brochure in the mail, please send your contact information to: NeedhamConcertSociety@gmail.com.
Virtuosic. And amazing programming!
Brian R.
NCS audience member
Chamber music—a conversation between friends.
Music washes away from the soul the dust of everyday life.
Needham Concert Society relies on donations like yours to bring high-quality programming to our community. Please consider making your tax-deductible gift today. Thank you for your generous support.